DISRUPTED - The consumer experience of renting in Australia
Disrupted – the second report commissioned by CHOICE, National Shelter, and The National Association of Tenant Organisations (NATO) – delves into the issues facing Australians who rent. It reveals three problems that people who rent are facing across the nation, with many:
living in poor quality homes afraid to request repairs;
on insecure tenancies; and
struggling with rental affordability and cost of living pressures.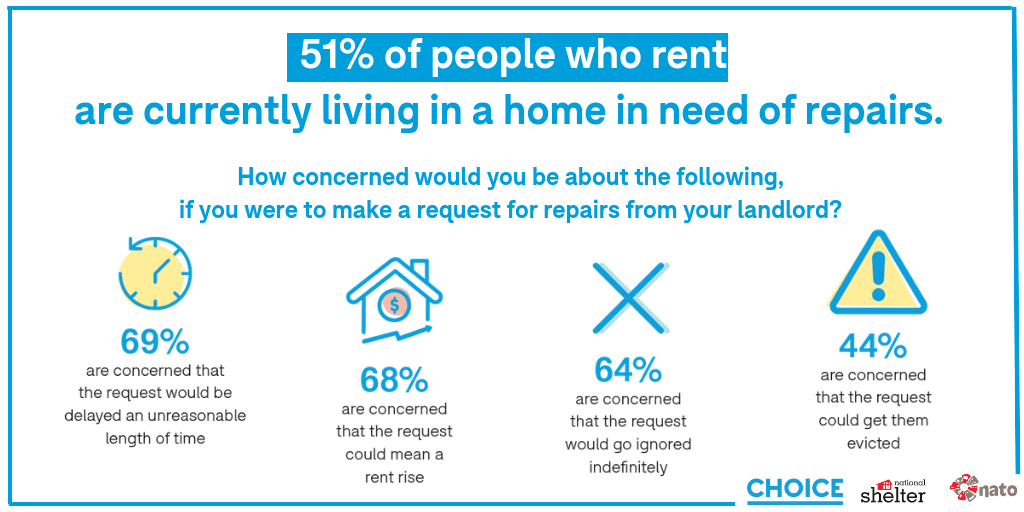 "This new research shows that there's a major problem with the quality of our homes. 51% of Australians who rent are living in homes that need repairs is unacceptable and we need leadership to turn this around. Property lobbyists fight reform every step of the way, but good regulation helps everyone. Let's support good landlords by bringing everyone up to their standard. We need a coordinated approach to rental standards, so we can make the relationship between people who rent and those who rent to us a positive one." - Adrian Pisarski, Executive Officer National Shelter
Media contact: Jonathan Brown jbrown@choice.com.au - CHOICE media line: 0430 172 669
---

Rental Affordability Index - November 2018
National Shelter, Community Sector Banking, Brotherhood St Laurence and SGS have released the Rental Affordability Index (RAI) on a biannual basis since 2015. A price index for rental housing markets, the RAI is an easy to understand indicator of rental affordability relative to household incomes. It is applied to geographic areas across Australia.
The results of this release have found that Hobart is still the least affordable capital city to rent, with even moderate income working households paying 30% of their income to access a rental.
The RAI report is accompanied by an interactive map that allows users to search rental affordability by household profile or by income and number of bedroom dwellings.
Follow the link to view the full size interactive map or click the image below to read the full report.
View the full size interactive map and a print version of the report here
You can also view National Shelter's Media Release on the latest RAI here
---
National Shelter, SGS Economics and Planning, and Community Sector Banking scoop PIA Award for Rental Affordability Index!

The Planning Institute of Australia presented this award for 'Best Planning Idea - Large Project' on Friday evening for our work on the Rental Affordability Index in the ACT.
Our next release date is November 28! Don't miss it and check out our latest RAI here:
https://www.sgsep.com.au/maps/thirdspace/australia-rental-affordability-index/
Rental Affordability Index - May 2018
National Shelter today released the 6th edition of the Rental Affordability Index with our partners SGS Economics and Planning and Community Sector Banking. We also welcome the Brotherhood of St Laurence as a new sponsor for the Index. A media event to coincide with the release was held at the BSL in Melbourne this morning.
The latest release shows low income households continue to face severe unaffordability in our rental markets despite a slight improvement in the overall rental affordability of the nation.
For more detail see the the interactive map below which looks at household type, income and area as well as looking at past data:
http://www.sgsep.com.au/maps/thirdspace/australia-rental-affordability-index/
You can also click here to view the full Rental Affordability Index Report
---
National Shelter view of the 2018 Budget
Click here to view National Shelter's overall commentary and media response to the 2018/19 Federal Budget.
---
Policy Priorities
National Shelter has announced it's latest set of policy priorities which can be accessed in full here and as a summary here. The new policy priorities focus on Housing and Infrastructure, Housing for Aboriginal and Torres Strait Islanders and Ending Homelessness. We have structured these in this way to highlight that housing affordability and affordable housing are critical issues for how well our cities and regions function, for productivity and for enabling social, economic and cultural participation. For too long housing has been neglected and nothing short of a National Housing Strategy.
We will be promoting these in the coming weeks though media releases and social media and sending them to every federal politician in Australia. We encourage you to help us share these yourselves.
---
Everyone needs a home

But right now, Australia's housing system is broken. A generation of homeowners has been priced out by investors. There is a shortage of secure, affordable rental properties. And more and more people are being pushed into homelessness.
The good news is, there are simple things our government can do to fix it, and make the system fairer for everyone.
And that's where the Everybody's Home campaign comes in. This is a new campaign, for all Australians to get involved in a campaign that will see everyone working together to call on our government to implement the solutions needed to ensure everyone has a home.
National Shelter is proud to be a part of this campaign and we encourage you to join us!
Click below to join the Campaign!

Everbody's Home Media Release: New polling shows 2 in 3 Australians want action on housing
Federal and state governments are failing the test of providing secure, affordable housing with two in three Australians saying all political parties must do more to address housing affordability.
The polling has been released to coincide with the housing, homelessness and community sectors uniting in Canberra today to launch a new national campaign aimed at rebalancing the housing system for ordinary Australians.
---
New data shows growing demand for homelessness services - federal funding failing to keep up
Homelessness Australia says the number of Australians seeking help from homelessness organisations last financial year jumped to 288,273, a 19% rise over four years.
The data from the Australian Institute of Health and Welfare showed growth in demand, with the number of women seeking homelessness services increasing substantially.
Social housing is not broken. It's time to look at the whole housing system
July 2017: In our response to the draft Productivity Commission's Introducing Competition and Informed User Choice into Human Services: Reforms to Human Services Draft Report, National Shelter refects the premise that social housing is broken, and argues for a systemic approach to reform taking in the whole of the Australian housing system including the growing private rental segment and changing patterns of home purchase and retention.
Earlier this year Rental Affordability Index May 2017. Pensioners and working parents being priced out
Pensioners and working parents have been priced out of the rental market in all metropolitan areas across Australia, according to the latest Rental Affordability Index (RAI), released on 17 May 2017. Rental affordability dropped over the last quarter in all metropolitan areas, except Perth.
"The latest Rental Affordability Index is a wake up call - without swift coordinated action to tackle housing affordability, Australia will become a divided country, with pensioners, working parents and other low income groups locked out of living in metropolitan areas," said Andrew Cairns, CEO Community Sector Banking.
"The RAI shows that working families – not just low income households – are now being priced out of Australia's metropolitan rental markets. Housing for pensioner groups is also in a particularly critical situation, given their additional needs and service-dependence," said Ellen Witte, Partner at SGS Economics and Planning.
"This index reminds us how much work governments, the community and private sectors have to do. While the budget introduced some welcome measures house price inflation is locking people out of ownership and putting much greater pressure on rental markets which remain unaffordable and displaces low income households into the margins," said Adrian Pisarski, Executive Officer of National Shelter.
National Shelter, Community Sector Banking and SGS Economics and Planning have released the Rental Affordability Index (RAI) on a biannual basis since 2015 as an indicator of rental affordability relative to household incomes. This release highlights the situation for low income groups, including aged pensioners and part-time working parents.
Download the full report from http://www.shelter.org.au/may-2017-release-rental-affordability-index
Use this link(link is external) to use the interactive maps to see affordability by postcode
You might also like to check out: Millions engage with #RentInOz report from Choice, National Shelter & NATO
National Shelter has partnered with CHOICE and the National Association of Tenants' Organisations to call for governments to prioritise rental security and quality issues, alongside housing affordability, as a national study reveals widespread fear and discrimination faced by thousands of Australians.
The report was released on 16 February 2017 and literally millions of people engaged with the story via Twitter, newsites, and broadcast media stories. The hashtag #RentInOz trended on Twitter. With one third of Australain households renting (up from 25% a decade ago) rental affordability, accessibility and quality are growing concerns.
"Governments across Australia are rightly focused on the issue of housing affordability. Affordability is extremely important to renters, but it can't be addressed without also looking at the quality and security of housing." said Adrian Pisarski, National Shelter's Executive Officer.
"It's hard to imagine a product or service this poor in any other sector. As consumers of rental properties, tenants have to deal with major quality issues like mould or flooding and are systematically denied access to a timely remedy," said Alan Kirkland, CHOICE CEO .
"Worringly, we found that renters with more experience in the market were less likely to complain when something goes wrong which illustrates the entrenched culture of fear among renters. This is all the more of a concern when you consider the rising number of long-term renters across Autralia," said Ned Cutcher, National Association of Tenants' Organisations spokesperson.
Key findings
83% of renters in Australia have no fixed-term lease or are on a lease less than 12 months long
62% of people say they feel like they can't ask for changes
50% of renters report experiencing discrimination when applying for a rental property
50% of renters worried about being listed on a residential tenancy database
20% renters experiencing leaking, flooding and issues with mould
8% of renters are living in a property in need of urgent repairs
See the full report here.
You can also read the media release here(link is external).